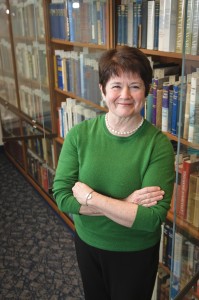 Maureen Sullivan is an organization development consultant whose practice focuses on the delivery of consulting and training services to libraries and other information organizations. She has more than 25 years of experience as a consultant on organization development, strategic planning, leadership development, introducing and managing organizational change, organization and work redesign, establishment of staff development and learning programs for today's workplace, creating a work environment that supports diversity, revision of position classification and compensation systems, and the identification and development of competencies. Her experience includes 12 years as the human resources administrator in the libraries at the University of Maryland (1977-1980) and at Yale University (1983-1991). She has had a long association with the Association of Research Libraries (ARL) and was instrumental in the design and delivery of several of ARL's management training programs.
2014 MCLS Annual Meeting - October 3, 2014 - Battle Creek, Michigan
Keynote speaker, former ALA President Maureen Sullivan, addressed how libraries could engage and transform their community, whether that be their town, county, institution or campus.
Following the keynote address, a panel of library leaders responded and presented on how they are working to engage their very different communities. The panel included:
Emily Bunyan—Director of the Knox County Public Library in Vincennes, Indiana
Corey Seeman—Director of the Kresge Business Administration Library at the University of Michigan
Christina C. Wray—Librarian at the Center for Disability Information and Referral within the Indiana Institute on Disability and Community at Indiana University–Bloomington
Watch here for a link to the event's photo album.
Watch here for the latest information regarding the findings of the unconference conversations!
2014 Business Meeting presentation