Libraries Read: 1 Book 2018
"A poetic and powerful memoir about what it means to be a Black woman in America—and the co-founding of a movement that demands justice for all in the land of the free."— GoodReads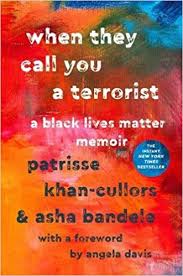 When They Call You a Terrorist: A Black Lives Matter Memoir by Patrisse Khan-Cullors and asha bandele, was selected as the title for Libraries Read: 1 Book 2018, capturing 52 of the total 132 votes. MCLS invited library staff across Indiana and Michigan to submit titles for consideration, then to place votes for one of four titles to select the book that we would all read and discuss together for professional development.

The GoodReads review went on to say, "Condemned as terrorists and as a threat to America, these loving women founded a hashtag that birthed the movement to demand accountability from the authorities who continually turn a blind eye to the injustices inflicted upon people of Black and Brown skin. Championing human rights in the face of violent racism, Patrisse transformed her personal pain into political power, giving voice to a people suffering inequality and a movement fueled by her strength and love to tell the country—and the world—that Black Lives Matter. When They Call You a Terrorist is Patrisse Khan-Cullors and asha bandele's reflection on humanity. It is an empowering account of survival, strength and resilience and a call to action to change the culture that declares innocent Black life expendable." Those who submitted the title for consideration felt it would be a fantastic point to bring this conversation into the libraries, and to help us better understand the communities that we serve. MCLS encouraged library staff to read the book throughout the summer, then join us in a Twitter chat and regional discussions about the book. This was the fourth year of the Libraries Read: 1 Book program. By reading one book together, across library types and state lines, our goal was to create deeper connections among libraries that span geographic and other boundaries.
Book Discussions
Library staff were encouraged to read the book during June and July, and to hold discussions at their libraries, either for staff or the public. Discussion questions were provided upon request. A book discussion took place online via the MCLS Third Thursday Twitter Chat on July 19 at 2pm Eastern (1pm Central). The archived discussion can be found here. Unfortunately, regional discussions in both Indiana and Michigan were cancelled due to a lack of registrations during the busy summer season.
Questions regarding Libraries Read: 1 Book or the discussions should be sent to Michelle Bradley, MCLS Manager, Member Engagement, at bradleym@mcls.org or 800-530-9019 ext. 125.