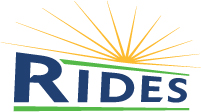 To make RIDES shipping labels:
Access the RIDES label maker at: https://www.mcls.org/rideslabels
Select your location in the 'FROM' drop down box.
Use the 'SEARCH' box to find the correct library location. Highlight the library name in the left 'TO' column. Double-click or use the right arrow button to add the location to your list in the right column.
Enter the MeL Agency code in the 'Search' box for the most reliable results.
Under 'Label Options', choose to create either 2 labels per page or 6 labels per page.
Click 'Print'.
Verify and print your shipping labels as you would any pdf.
Click the back button to return to the selection screen.
Label maker tips
Once you select your From location, it will be the default each time you access the site. You may change it at any time.
To return the 'RIDES Participants' column to all of the listings, click on 'Clear'.
You may list as many locations as you like before clicking 'Print'.
You may list a single location multiple times to make multiple labels.
If you want to remove a location, select and double-click or use the left arrow button.
To make a 'Dedicated' label, select the location in the right column and right click.
Once you select your label option, it will be the default each time you access the site. You may change it at any time.
Click on the back button to return to the selection screen.
To clear the highlighted list of names in the right Labels to Print column, click on the left arrow.
To hide the pop-up 'Tips', uncheck the box in the lower right corner.
Labeling tips
Only use standard RIDES shipping labels created with the current RIDES label maker site.

RIDES labels are formatted for standard 6 per page 3 1/3" x 4" labels, or 2 per page 8 1/2" x 11" paper.

The date the shipping label is printed will show on the label. This is helpful for both the courier and receiving libraries.

Do not print in advance since information changes often. Only print what you will use up within a month.

Do not reuse shipping labels.

All old shipping labels must be removed, completely covered, or marked out to assure items are correctly routed.

MeLCat loans should be sent to the "Pickup At" location indicated on the MeLCat paging slip.

If the book band and paging slip are missing, try searching the RIDES Participating Libraries list for the MeL Agency Code. You may search that list by clicking on Control-F (or go to Edit --> Find). The search box will allow you to search by name, city, MeL Agency Code, etc.

If you are sending enough items to a single destination to fill a tote:

Create a 'Dedicated' label, tape the label on top of the tote and tape the tote lids closed, to indicate to the drivers and sorters that the tote is going to a single institution and does not need to be opened for sorting.

If you use sticky labels, never place them directly on items belonging to another library.

You may attach the shipping label to the book band, or attach it to a piece of scrap paper.

Plain paper shipping labels can be printed on scrap paper, and should be securely attached to the item or package, they do slip out if they are not attached.

If you print 2 labels per page, the half page shipping label may be folded under the cover of the No Pack book for security. 
Searching tips
Participating libraries appear with their MeL Agency Code followed by the library name, and if applicable, the branch name.
Search by MeL Agency Code for the most reliable results.

Always verify two matching points — MeL Agency Code and the library name.

Libraries that have temporarily suspended their RIDES service are noted on the list of RIDES Participants. Labels for these sites will not print. Materials being sent to those sites can be sent to ZY001 Midwest Coll for Lib Services.
If a library name does not appear on the list at all, then that library does not participate in RIDES service.
Shipping labels for libraries that are part of a central delivery hub or a branch will print the central delivery or main library address.  

If you are not sure which branch you should select to return an item, just choose any one of the branches. The lending library is responsible for making sure items are property stamped with the correct branch location.

Because of space constraints, some library systems with branches have been abbreviated on the RIDES label maker:

ZV512 AADL = Ann Arbor District Library
ZV194 CADL = Capital Area District Library
ZV122 GDL = Genesee District Library
ZV139 GRPL = Grand Rapids Public Library
ZV080 KDL = Kent District Library
ZV231 Monroe CLS = Monroe County Library System
ZV236 MADL = Muskegon Area District Library
ZV292 PLOS = Public Libraries of Saginaw
ZV273 SCCL = St Clair County Library
ZA014 WSU = Wayne State University
ZD002 WMU Cooley = WMU Cooley Law School
ZY001 Midwest Coll for Lib Services = MCLS (*NOT* Monroe County Library System)
If you have any problems concerning RIDES shipping labels, please submit questions via the RIDES Assistance form at mcls.org/rideshelp.