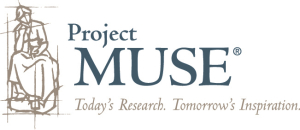 Project MUSE is a leading provider of digital humanities and social science content for the scholarly community. Since 1995 the MUSE journal collections have supported a wide array of research needs at academic, public, special, and school libraries worldwide. MUSE is the trusted source of complete, full-text versions of scholarly journals from many of the world's leading university presses and scholarly societies, with over 120 publishers currently participating. UPCC Book Collections on Project MUSE, launched in January 2012, offer top quality book-length scholarship, fully integrated with MUSE's scholarly journal content.
Vendor website: muse.jhu.edu

Product list
Product not listed? Request a quote for any product or contact Group Purchasing at
services@mcls.org
or 800-530-9019 ext 401.

Basic College Collection

Basic Research Collection

Film, Theater, and Performing Arts

Humanities Collection

Literature Collection

Political Science and Policy Studies

Premium Collection

Social Sciences Collection

Standard Collection