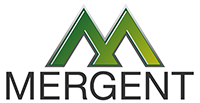 Mergent, Inc. is a leading provider of business and financial information on global publicly listed companies and has partnered with D&B to provide several online/print solutions.
Vendor website: mergent.com

What's new
Product list
Product not listed? Request a quote for any product or contact Group Purchasing at
services@mcls.org
or 517-939-1382.

D&B Business Browser University Pro

D&B Million Dollar Database Plus

Expanded Long-Term Debt

FactSheets

FactSheets Express

Insider Trading

Institutional Holdings

Intellect

International Annual Reports

International Company Archives Data

International Company Data

InvestorEdge

Mergent Online

U.S. Annual Reports

U.S. Company Archives Data

U.S. Company Data