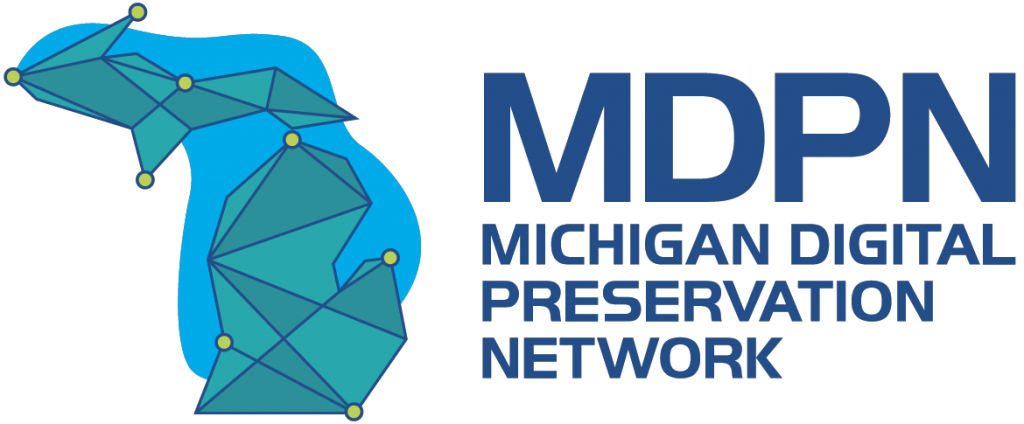 The Michigan Digital Preservation Network (MDPN), a program of MCLS, is making great progress toward establishing the first production LOCKSS 2.0 network thanks to efforts from MDPN Coordinator Chelsea Denault, MDPN's members, and the extended LOCKSS community. This month I'll offer a few updates on this impactful work that will benefit libraries, museums, archives, historical societies, and stewards of Michigan's cultural memory. We're very proud of MDPN's growing recognition as a leader in digital preservation and are thankful for the Library of Michigan's and the Institute of Museum and Library Services' (IMLS) support for MDPN's work to establish a digital preservation network for Michigan. To learn more about digital preservation, the Digital Preservation Coalition has a helpful beginner's guide.
Western Michigan University (WMU) is now running MDPN's first LOCKSS 2.0 production node (using the recent 2.0-alpha7 release), and we anticipate having three more nodes operating by the end of September. On behalf of Chelsea and the MDPN members, I thank WMU, Eastern Michigan University (EMU), Northern Michigan University (NMU; new MDPN member), Traverse Area District Library (TADL; new MDPN member), and the tandem of Capital Area District Library (CADL) and Michigan State University (MSU) for serving as LOCKSS node hosts. Having multiple preservation server hosts spread across the state helps improve the network's security and redundancy, and makes the MDPN a more resilient network.
In keeping with the goals of MDPN's current IMLS grant, the Network is serving as an international model for future LOCKSS 2.0 networks in multiple ways. First, CADL and MSU will be the first institutions to co-manage a single LOCKSS node, and their partnership can demonstrate how future institutions (especially smaller or under-resourced ones) might share expertise and resources to host a node. Second, MDPN's Service Level Agreement for node hosts is the first of its kind and provides an example that other networks can use to document expectations clearly. Finally, MDPN will benefit from being the first LOCKSS network to use the forthcoming latest version of APTrust's Digital Archivist's Resource Tool (DART), a drag-and-drop packaging tool that makes digital preservation easier for non-technical users. DART encountered significant technical challenges earlier in 2023, and the timing of its reengineering will work very well for MDPN. Having started conversations about integrating DART and LOCKSS 2.0 with various stakeholders earlier this year, the Network will ultimately have a more stable and "LOCKSS-ready" DART tool in this newest version. Other LOCKSS networks outside Michigan have already expressed interest in using MDPN's DART-to-LOCKSS pathway to significantly improve and simplify how users can deposit their digital content.
In addition to the technical work above, Chelsea contributes to important collaborations on digital collections practice in the state. Working with Biz Gallo, Statewide Digitization Initiatives Coordinator at the Library of Michigan, and Rick Adler, Coordinator of the Michigan Service Hub of the Digital Public Library of America, Chelsea represents MDPN in a monthly Digital Experts Office Hours series, which provides an open forum for anyone working with digital collections to ask questions and meet other colleagues across the state. Biz, Chelsea, and Rick will be bringing Office Hours "live" in presentations at the Michigan Library Association and the Michigan Museum Association annual conferences this fall. Beyond Michigan, Chelsea also represents MDPN on the iPRES and National Digital Stewardship Alliance (NDSA) conference committees, to make sure MDPN and its smaller institutional stakeholders are being heard. She is also excited to convene new MDPN committees this fall in the FY2024 membership year and encouraging more members to participate.
I hope you'll join me in thanking the current MDPN members, and that your organization will consider joining MDPN. The fiscal and personnel resources that members contribute are crucial to the Network's success and sustainability. Members do not necessarily need deep knowledge of digital preservation philosophy or practice – the Network is looking for people with a passion for preserving their institution's content, and an interest in learning more.
Capital Area District Libraries
Eastern Michigan University
Grand Valley State University
Hillsdale College
Michigan State University
Traverse Area District Library
University of Michigan-Ann Arbor
Wayne State University
Western Michigan University
Watch for more information about MDPN's continuing progress in upcoming MCLS newsletters, and please contact MDPN Coordinator Chelsea Denault anytime with questions, at denaultc@mcls.org.
Have questions or ideas about how MCLS might help build capacity for libraries across Indiana, Michigan, and beyond? Contact me anytime at garrisons@mcls.org.