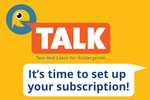 MCLS is steadily working on TALK's transition from a fully IMLS grant-funded program to an MCLS subscription-based service. To facilitate setting up your account in our system, we need to know if you are planning to offer TALK to your patrons after the grant ends in July 2024.
IMLS grant funds will cover the TALK subscription service for a longer period than anticipated, so we are able to delay subscription service billing to Jan. 1, 2024! Invoices will be available in MCLS's subscription management system (Consortia Manager) by Dec. 1, 2023. Free text block voucher distribution will remain in place and the subscription fee will be prorated based on the shorter subscription year (1/1/24-6/30/24)? Any unused texts will roll over to the next year as long as your library continues with an active TALK subscription.
Please fill out this form no later than Dec. 1 to let us know if your library will continue to offer TALK. If we do not hear from you by Dec. 1, we will assume you plan to no longer offer TALK to your patrons after July 31, 2024.
Visit the Frequently Asked Questions for Libraries page?for more information or email your questions to talkhelp@mcls.org. Thank you for using TALK!