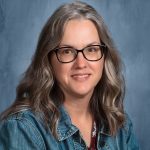 Susan's first day with MCLS was Feb. 27. Having most recently worked at Rolling Prairie Elementary School (IN) following 15 years in various roles at La Porte County Public Library (IN), Susan brings both a strong understanding of K-12 and public library eResource needs and a commitment to innovative service in support of library users.
In her role as MCLS Group Purchasing Coordinator, Susan administers purchases for library products and services in collaboration with the Group Purchasing Team. She provides support to members and customers by answering questions, processing orders, and troubleshooting, and cultivates productive working relationships between MCLS, libraries, and vendors. Learn more about Susan below:
Q: Tell us a little about your background. How did you get started in libraries?
A: I was really inspired as a child by visiting our local branch library. The librarian there was our neighbor. I remember thinking, "If Mary can be the librarian, I can too." Our home was very rural and one of the few places I could ride my bike to was the bookmobile. I must have caught the library bug pretty early because I remember playing "library" at home, organizing our bookshelves, pretending to check out books, and doing storytimes with my cousins and siblings.
Q: What motivated you to take on this new role?
A: I've been a passionate advocate for library access for all and overcoming barriers to access that community members encounter. For many years, I worked on partnership initiatives involving schools and local organizations. This role drew me because of the opportunities to help even more people learn about and gain access to valuable resources and services.
Q: What are you most excited to start working on?
A: There is so much to learn and I'm excited about all of it! First, getting to know vendors, member libraries, and new colleagues. I like a challenge and learning about new things, and figuring out ways to grow and improve keeps me energized.
Q: What do you like to do when you aren't working?
A: Spending time with family and friends is my favorite. Fishing with my son, kayaking, and hiking with my girls are special times. I like making good meals with family and friends. I'm a passionate equestrian trail rider and have ridden my horse across the state of Michigan from Lake Huron to Lake Michigan. I have a young horse named Travelers Ruby Knox—Knox for short—and he and I are learning about each other and building a solid partnership. When I ride and travel, I enjoy audiobooks.
Q: Do you have a favorite author, book, or genre?
A: I like so many authors and books. I recently read Jon Meacham's, And Then There was Light. Historical fiction is my jam, but honestly I'll read just about anything good. Reading Octavia Butler's Parable of the Sower was pretty fascinating and resonated with our current times. I wish Madeline Miller published more books, but masterpieces like Circe and Song of Achilles take time. John Steinbeck is an author that had a big impact on me and I have recently begun re-reading his books.
Q: Anything else you want us to know about you?
A: Truthfully, I could go on and on about books, horses, and stories about my children. I like helping people discover how amazing libraries are and I look forward to working with MCLS and member libraries to make that happen.