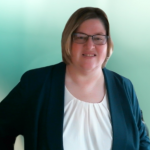 We are pleased to announce that Pamela Seabolt, Library Strategist at MCLS, has accepted the position of Manager of Engagement, Consulting, and Training (ECT), effective May 10, 2021.
Pam joined MCLS as the Community Engagement Librarian in Indiana in 2017, and shifted to Library Strategist in 2020 as our consulting services grew and the ECT team members began serving across both membership states. As manager, Pam will lead the ECT team in continuing to offer quality consulting services, training workshops, soft skills development, strengths-based planning, and engagement opportunities to our members and to libraries all over Indiana and Michigan. "Pam has done great work at MCLS to date in multiple roles, and in both Indiana and Michigan, and brings considerable prior management experience in public libraries," said Scott Garrison, MCLS Executive Director. "She has well-established relationships with libraries throughout our region and with our Engagement, Consulting, and Training staff, and is engaged at the national level. I'm confident that Pam's deep knowledge of and passion for our work, can-do attitude, forward-thinking nature, growth mindset, and entrepreneurial spirit will serve her and her team, MCLS, and the libraries we serve well as she begins in her management role." Pam will continue to be based near Lafayette, Indiana.
"I am excited to be joining the leadership team at MCLS," Pam said. "I am passionate about the work that MCLS does in community engagement and strengths-based planning, and look forward to continuing to build relationships with library leaders, librarians, and library staff throughout Michigan and Indiana."
Pam has over 20 years experience in the library field. Most recently before coming to MCLS, she was the Clarksville Branch Manager for Jeffersonville Township Public Library in Indiana. Prior to that, she worked at the Frankfort/Clinton County Contractual Public Library. Pam earned her MLS from IUPUI.
Congratulations on the promotion, Pam!