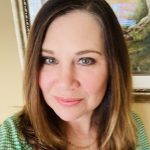 Michelle Bradley, Manager of Engagement, Consulting, & Training at MCLS, has announced that she will be the new Director of Consulting at OhioNet. Michelle's last day at MCLS will be May 7, 2021.
"I cherish my time at MCLS and the relationships I have made with library staff in both Indiana and Michigan," Michelle said. "I am especially grateful for those early adopters of our consulting services for trusting me with your staff, your boards and your communities as we developed new ways of strategic planning. I wish the best for all of you as I continue my work in Ohio."
"Michelle's work at MCLS and with our member libraries in Indiana and Michigan has been groundbreaking and game-changing," said Scott Garrison, MCLS Executive Director. "We have truly appreciated her strong commitment to helping libraries advance in how they work and serve their communities, as well as her remarkable drive to learn and advance her own practice. We will miss her, and thank her for everything she has done in her time with us, as she starts in her new role at OhioNET."
Michelle joined MCLS in October 2014 as the Community Engagement Librarian for Indiana, and was promoted to manage the newly-formed Member Engagement department in 2015. In 2017, Michelle led her team in developing a Consulting business for MCLS, offering community engagement training, meeting facilitation, and strategic planning, among other services, to libraries all over Indiana and Michigan, and causing the department to change its name to Engagement, Consulting, & Training in 2018. Prior to joining MCLS, she was Director of Frankfort Community Public Library in Frankfort, Indiana, and spent more than 20 years in public libraries, primarily in Indiana. Michelle has contributed a wealth of knowledge, relationships, and skills to her work with our member libraries, leading her team, and developing new ways for MCLS to serve its members over the past six and a half years, and will be greatly missed.
We at MCLS wish Michelle all the best on her next adventure!