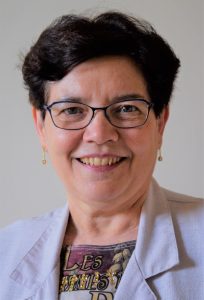 MCLS's newest instructor, Lisa Robinson, is the Head of Metadata Management at Michigan State University Libraries, the unit in charge of authority control. Previously, she was the head of the original cataloging unit and an AV/electronic resources cataloger. She is also a BIBCO & NACO cataloger for the Program for Cooperative Cataloging. Currently, she is the chair of the ALCTS-LITA Authority Control Interest Group and is a member of the ALA Subject Analysis Committee.
Some fun facts about Lisa, in her own words:
I earned a Ph.D. in history of science from the University of Pennsylvania way back in 1986. I then spent 10 years teaching history of science and writing courses for Michigan State University.
For the past four years, I've taught a study abroad summer course in China for MSU students on, "Food and Identity."
This past summer, I also taught a study abroad course on the same topic in Japan and South Korea.
I'm a big fan of Korean TV shows (with English sub-titles, of course). I'm currently watching the dramas, Hotel del Luna and Rookie Historian Goo Hae-ryung, as well as the variety show, Master in the House.
I'm also a fan of romance novels, particularly those by Tessa Dare and Jennifer Ashley. But I'm currently working my way through Ashley's "Below Stairs" mystery series.
I like to listen to bluegrass music, especially the Steep Canyon Rangers.
While Lisa has plenty of experience in libraries, in cataloging, and in teaching, this will be her first semester teaching webinars for MCLS. She will be teaching two classes this semester: Assigning Library of Congress Subject Headings in September and Authorities in October. Welcome, Lisa! We are so glad to have you with us!