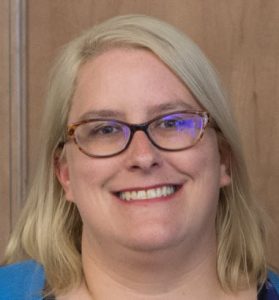 Dejah Rubel is the Metadata and Electronic Resources Management Librarian at Ferris State University. She earned her B.A. in Women's Studies and her M.S. in Information at the University of Michigan. She recently earned her M.S. in Information Security and Intelligence and a certificate in Advanced Studies in Business Intelligence at Ferris State University.
Formerly trained as an archivist and preservation professional, her journey to an eResources position has been a circuitous one through a wide variety of libraries and collections including the Janice B. Longone Culinary Archive, ITT Technical Institute, Eastern Michigan University Archive, University of Michigan College of Engineering Women In Science and Engineering, and Owens State Community College.
Some fun facts about Dejah, in her own words:
I am named after Edgar Rice Burrough's character, Dejah Thoris. Borrow John Carter of Mars if you prefer movies over books.
I played the Defense Attorney in "King Cole's American Salvage," part of the world premiere of two stories adapted from Bonnie Jo Campbell's collection, American Salvage.
I met my partner almost 18 years ago at The Rocky Horror Picture Show.
This is Dejah's first semester teaching for MCLS. She will be teaching two courses: Original Cataloging of Videos & DVDs Using RDA this month, and Original Cataloging of Sound Recordings Using RDA in October. Welcome to the MCLS teaching team, Dejah; we're so glad to have you!