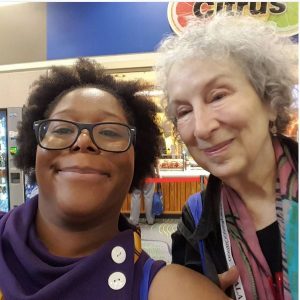 This month's featured trainer, Mahasin Martinson, currently works in the IT Department at the Indianapolis Public Library. Originally from Lansing, Michigan, Mahasin bridges our two membership states, and has been a lifelong patron of libraries. She has volunteered and worked in public libraries for over 15 years. In May 2016, Mahasin completed her master's degree in Library and Information Science at IUPUI, having served as both chief information officer and president for the Association of Library and Information Science Students IUPUI chapter. She also holds a bachelor's degree in Civic Leadership from IUPUI.  Areas of interest within the field include comparative librarianship, millennial engagement in libraries, and under-represented populations.
Some fun facts about Mahasin:
She once ran into and got a selfie with Margaret Atwood, author of The Handmaid's Tale.
She got to sit in on a staff meeting of the National Library of Scotland.
She runs a book club dedicated to reading the works of Octavia E. Butler.
She had a planet themed wedding, complete with a reading from Carl Sagan's Pale Blue Dot.
She serves on the board for the Indiana Writers Center.
Mahasin currently teaches our "Here come the robots: New tech & gadgets for your patrons" workshop. We're so pleased to have Mahasin as an MCLS workshop instructor!