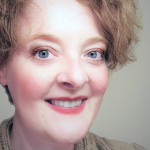 We are excited to announce that Mary Ruthko has accepted the newly-created position of Marketing and Communication Coordinator at MCLS. Mary most recently worked as the Marketing Manager at the Bay County Library System headquartered in Bay City, Michigan. She brings to us a wealth of experience, and we look forward to working with her to strengthen our marketing and communication in order to better serve our members. Mary's first day at MCLS was July 11.
As Marketing and Communication Coordinator, Mary will work with the entire staff to create strategy around our marketing for the organization. Bringing her expertise, she'll help us strengthen and expand current efforts and create more unified, consistent messaging. We are excited that Mary's knowledge and guidance can help us more effectively share with you all the ways we exist to support libraries in Indiana and Michigan. We asked Mary to tell us, and all of you, a little more about herself:
Q: Tell us a little about your background. How did you get started in libraries?
A: I consider myself a lifelong learner with many interests, most of which are in arts and culture. Of course, I've always loved literature and even received a secondary teaching degree in English (my favorites are 18th Century British and Early American literature) along with Psychology and Theatre. Additionally, I have a BA in Communication from Michigan State University and an MLS (no, not the librarian kind, it's actually Master of Liberal Studies) in Public Administration from Fort Hays State University.
After stints in nonprofit marketing, museum education, and arts center administration, I like to think that library marketing found me because I wanted to work somewhere that combined the best parts of each previous position: creativity, research, storytelling, writing, designing, collaborating, teaching, improvising, planning, and strategizing.
Q: What motivated you to take on this new role?
A: Over the last fourteen years as a library marketer, I worked with many others in varying roles and departments in multiple libraries. The universal characteristic which I feel sets libraries apart from many other nonprofit fields is the willingness to share tools and expertise with colleagues. Collaboration and mutual support in the library world is essential, and I believe MCLS is a leader in offering innovative ways to support collaboration between libraries while offering opportunities for libraries and individual staff members to better serve their communities. Having seen the benefits of services MCLS provides on a local level, I was motivated by the opportunity to help MCLS as they provide support and resources for Michigan and Indiana libraries of different sizes and types. Also, I had experience building a marketing position from the ground up in my previous job, so I felt both confident and excited about applying those additional foundation building skills to this newly-developed position.
Q: What are you most excited to start working on?
A: I am really looking forward to two things: collaborating with staff to build and transform the current communication channels MCLS staff has already worked hard to create and maintain, and two, I absolutely cannot wait to attend conferences to meet our members and future members in person! You will see me this year at the annual conferences of MLA, ILF, and MiALA, so please stop by to say hello!
Q: What do you like to do when you aren't working?
A: Since my son will be a senior in high school this year, I'm focused on spending as much time with him as possible before he goes away to school (Michigan Technological University is the plan so far.) We have two large dogs (a St. Bernard and a lab mix) and a cat, all of whom find ways to fill up the rest of my free time with either unexpected shenanigans or an abundance of affection.
Q: Do you have a favorite author, book, or genre?
A: As I mentioned before, I do have a soft spot for 18th century British and early American lit, but I like lots of other genres, too. I generally prefer short stories to novels, and I love poetry. Having directed a lot of community theater, I've spent a good amount of time with my nose in a script (Ken Ludwig is a favorite). If I had to pick a favorite novel I'd say "The Awakening" by Kate Chopin. For poetry, I'd choose "The Rime of the Ancient Mariner" by Samuel Taylor Coleridge, "The Flea" by John Donne, or almost anything by Robert Frost.
Q: Anything else you want us to know about you?
A: I can't express enough how thrilled I am to be with MCLS and to have the opportunity to work with many more libraries in the Midwest. Please feel free to reach out to me at mary@mcls.org with any questions or comments you have.
Welcome, Mary! We're glad to have you on the MCLS team!