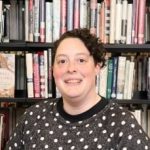 We would like to introduce you to Shanna Hollich who will be teaching some cataloging classes for MCLS. Shanna Hollich (they/them or she/her) is currently serving as the Director of the Guthrie Memorial Library in Hanover, PA. They have been doing research, reform, and advocacy work in the field of copyright and open access for several years in addition to their more usual day-to-day work in technical services and administration. They were part of the inaugural class of trained facilitator instructors for the Creative Commons Certificate Courses and have been teaching those courses for both librarians and educators for several years, in addition to teaching courses for Library Juice Academy and the American Library Association. They hold an MLIS from Rutgers University and are currently working towards a Masters in Data Analytics from Penn State, which will be obtained by the time this newsletter is published.
Shanna's biggest hobbies are knitting and cross stitch along with being a professional classical musician on French horn, voice, and occasionally trumpet! This skill leads to playing in several community bands and orchestras as well as performing in the pit orchestra for local musicals. Also, Shanna enjoys performing quality control tests on beers and ciders from her husband who is an avid homebrewer.
Shanna is looking forward to using her skills in technical services and cataloging in teaching for MCLS, and we look forward to that as well! Shanna will be teaching Original Descriptive Cataloging of Digital Resources Using RDA and Copy Descriptive Cataloging of Digital Resources Using RDA in May and June of 2022. For any questions about registration or our training programs, email training@mcls.org.