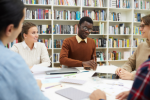 We are pleased to announce that both Dowagiac District Library (MI) and Morgan County Public Library (IN) have hired MCLS to facilitate professional development staff day sessions. Additionally, the Upper Peninsula Region of Library Cooperation (UPRLC) (MI) has contracted with us to facilitate a professional development workshop during the early bird session of their Annual Conference this fall. We look forward to spending time with so many library staff members soon!
Are you looking for library-specific consultants, presenters, or facilitators? MCLS can help!
Visit our Consulting Services webpage to read more or contact us here to request a quote.