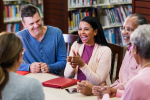 We are pleased to announce that our Engagement, Consulting, and Training team facilitated professional development sessions for the staff of both Mott Community College Library in Flint, MI and North Webster Community Public Library in North Webster, IN this spring.
We are excited that Middlebury Public Library in Middlebury, IN, Plymouth District Library in Plymouth, MI, and Presque Isle District Library in Rogers City, MI have all selected MCLS to provide staff day and management trainings for their libraries this fall.
MCLS can serve you, too! Our Engagement, Consulting, and Training team would love to come to your library and guide your staff through a half- or whole-day training session or facilitated discussion. We are library-specific consultants, presenters, and facilitators offering a variety of topics of interest to Indiana and Michigan libraries. Our October calendar is filling up quickly, so visit our webpage to read more or contact us to request a quote today!