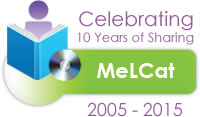 It's hard to believe but MeLCat is now 10 years old!  The first successful patron request was placed on January 10, 2005 at 12:41pm when a West Bloomfield patron requested Alice Starmore's "The Celtic collection: Twenty-five knitwear designs for men and women" from Bloomfield Township Public Library.
There were a number of key milestones in MeLCat's prehistory – the formation of the Michigan Electronic Library (1995), birth of AccessMichigan (1997), Our Preferred Future Conference for Libraries (1999), the creation of ATLAS (2001), and the subsequent release of Leveling the Playing Field 2: Creating a Statewide Resource Sharing Service (Final Report of the Action Team for Library Advancement Statewide, 2002).
From those early dreams, MeLCat was born.  And what a decade it's been!
Since January 2005, MeLCat has:
grown from the 12 libraries that went live on launch day to over 400 libraries using 23 different automation systems (plus 9 unautomated libraries)
filled over 7 million requests for Michigan residents
built a database with over 47 million holdings
facilitated close to 60,000 visiting patron loans
implemented NCIP functionality for over 65 libraries
In honor of MeLCat's birthday, we're having a contest!  In 2005, the most requested MeLCat title was Khaled Hosseini's The Kite Runner.  Name the most requested title in 2014 and win a bag of goodies!  Submit your answer via the Google Form at http://goo.gl/jBtHHo. Contest ends on January 30, 2015 at 5pm.
Please join colleagues from 10am-12pm EST on Friday, January 9 for an online celebration.  Registration is not required to attend, just point your browser to http://libraryofmichigan.adobeconnect.com/mel any time between 10:00am and noon on Friday to join the fun!
The success of MeLCat is a testament to the power of all types and sizes of libraries working together to build a service that benefits Michigan residents statewide.  A hearty congratulations to all MeLCat member libraries!