Registration is OPEN!  Reserve your space for the Great Lakes Resource Sharing Conference on June 4 and 5, 2015 at the Radisson in Kalamazoo, Michigan.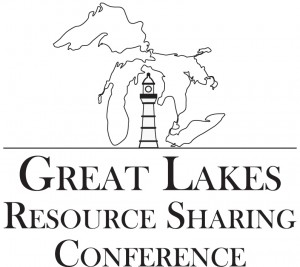 Schedule in brief:
Thursday, June 4, 2015 – 1:00pm to 2:30pm – Tour of Kalamazoo Institute of Arts
Thursday, June 4, 2015 – 3:00pm to 5:00pm – OCLC Update
Thursday, June 4, 2015 – 5:00pm to 7:00pm – Opening Reception
Friday, June 5, 2015 – 9:00am to 3:45pm (Keynote and concurrent sessions, continental breakfast, and lunch included)
Keynote Address:  Mark Sullivan, Executive Director of the IDS Project, a New York based library cooperative that focuses on community and innovation.

Concurrent Sessions:
Beyond Patron-Driven Acquisition: Broader Uses of Resource-Sharing Data in Collection Development
Don't Miss the Boat! Navigating the Interlibrary Loan Code for the United States
Crowd-Funding for Open Access E-Resources
Charting New Waters: Partnering to Provide  "On Demand" Services
Indiana ILL, They Are A-Changin'
And many more!
Conference Rates:

The conference registration fee is $75 ($95 for registration after May 15) and includes the preconference on Thursday June 4, all sessions, continental breakfast, and lunch on Friday, June 5.
Join your resource sharing partners and "set sail for uncharted waters"!!
For hotel reservations and other information, please see the GLRSC website.