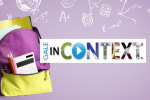 Gale's K-12 mission is to help students succeed in school and in life by connecting them to the curriculum-aligned digital content they need to become lifelong learners. Through an integral pairing of research and technology, Gale helps schools bridge the digital gap between the library, classroom, and home with trusted, accessible library and classroom resources.
With content for elementary, middle, and high school students, the Gale in Context (GIC) suite of databases uses eye-catching topic overview pages to bring together nonfiction materials in all digital formats. Users can read and/or watch to get the facts they need through GIC's articles, videos, charts, images, infographics, and more.
If you are interested in learning more about Gale's resources for your student users or would like a quote, please contact MCLS Group Purchasing at services@mcls.org or call 517-939-1382.