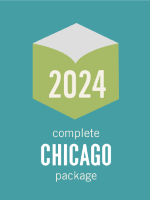 Subscribe to the Complete Chicago Package (CCP) and save on the comprehensive collection of journals from the University of Chicago Press. The CCP is designed to meet the content needs of your institution by providing electronic access to more than 90 titles from a wide range of disciplines.
New additions to the CCP in 2024 are The Sixteenth Century Journal and Transforming Anthropology. The full title listing is available at https://www.journals.uchicago.edu/inst/ccp.
Reach out to Group Purchasing for more information and a quote at services@mcls.org.