Contents:
News | Executive Director | Training | Special Offers
News
Call for nominations to serve on the MCLS Board of Directors
The MCLS Nominating Committee seeks nominations from the membership for the following openings on the MCLS Board of Directors:
At-Large Representative (Indiana)
Research Library Representative (Indiana)
School Library Representative (Indiana)
At-Large Representative (Michigan)
Public Library Representative (Michigan)
Nominations will be accepted until 5pm Eastern (4pm Central) on Friday, July 9, 2021. The slate of candidates will be chosen from the nominations, voted on in August, and presented to the membership in early October.
Read more about Board terms and responsibilities and how to submit nominations>>
LEAP 2020 comes to a close; information on a 2021 cohort for Michigan library staff coming soon!
Last week, we successfully wrapped up a wonderful six-month learning journey with the inaugural Libraries Engaging Appreciatively for Positive Change (LEAP) cohort, a partnership of MCLS and the Library of Michigan (with funding from the Institute of Museum and Library Services) to support community engagement work in Michigan libraries.
Following a one-day virtual event in November 2020 (attended by 74 staff members from 48 public and academic libraries around the state), those interested in continuing to learn from our facilitator, Mo McKenna of Return on Energy Consultants, the MCLS Engagement, Consulting, & Training team, and each other, formed the LEAP Forward cohort. This group met virtually each month from December 2020 through May 2021, working their way through the book, "Conversations Worth Having," sharing stories and experiences of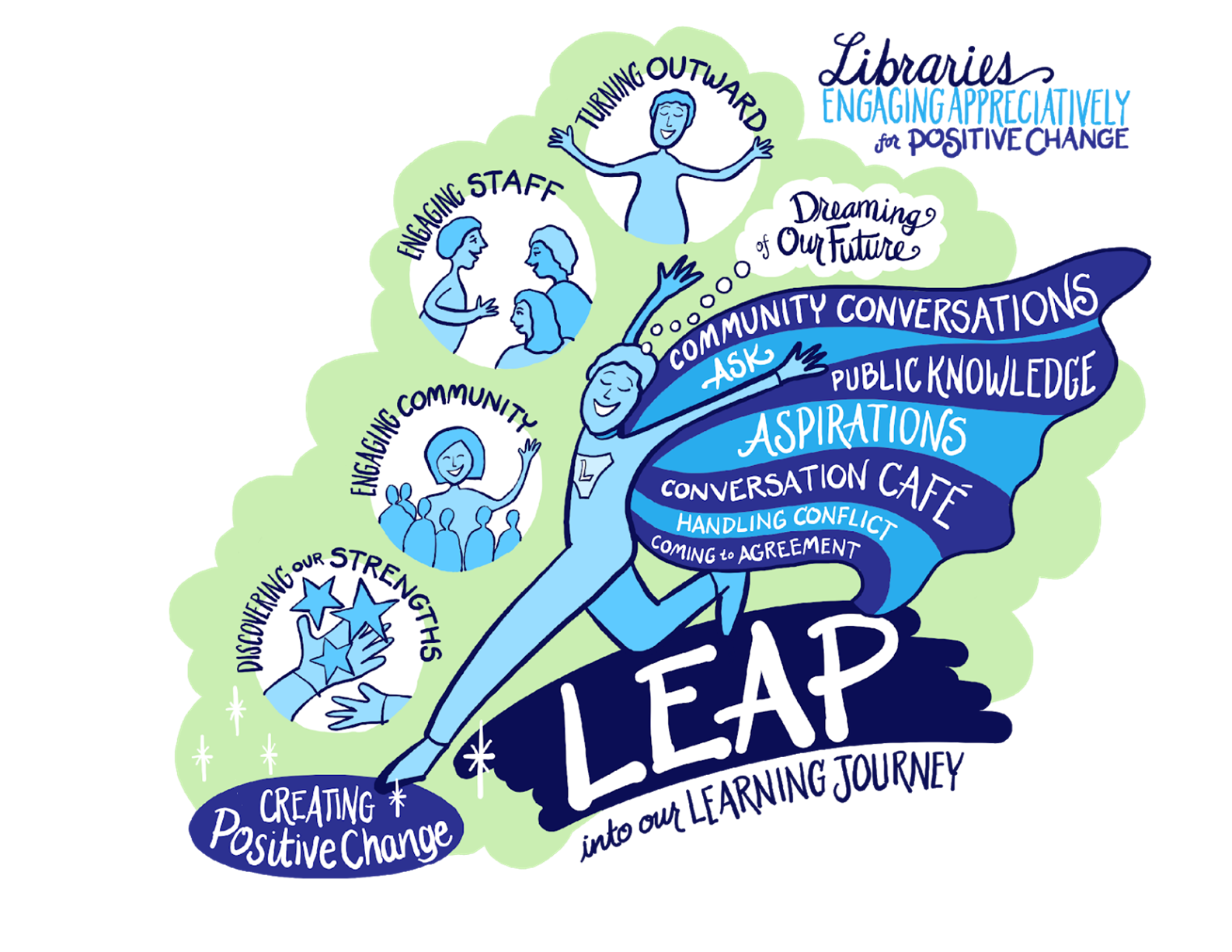 applying the Appreciative Inquiry practices in their work and lives, building community, and supporting one another. It was a wonderful experience that we at MCLS have been grateful to share with the cohort.
We are pleased to announce that a new cohort will begin, starting with a one-day virtual event in November 2021 (date to be announced.) Watch the MCLS eNewsletter and website for more information coming soon!
Culver-Union Township Public Library selects MCLS to provide strategic planning consulting services
We are pleased to announce that Culver-Union Township Public Library in Culver, IN has selected Midwest Collaborative for Library Services (MCLS) to provide consulting services for strategic planning.
Is your library interested in learning more about our consulting services? Visit our webpage to read more or contact us to request a quote.
---

Notes from Executive Director Scott Garrison
Through keeping up with the news, talking with the MCLS Board of Directors at their May meeting, recent conversations with libraries, reading I'm doing, and thinking about my own family and friends, issues of diversity, equity, inclusion, justice, and accessibility (which I'll refer to here as DEIJA) remain on my mind. As we note the anniversary of George Floyd's murder (and subsequent killings in the year that has followed), as the COVID-19 Hate Crimes Act has been signed into law, as June is Pride Month, and as society at large continues to grapple with myriad issues around DEIJA, I'm using this space to resurface and offer a few new resources that promote learning, understanding, and addressing inequities, from some 2020 Notes from the Executive Director articles and the time since.
---
Training
MCLS's new Training, Workshops, and Events registration system is live!
On June 1, MCLS launches our new Training, Workshops, and Events registration system. You can check out what we have to offer for a new semester of workshops in our online Training Store.
We expect and hope that the transition to the new system will be smooth for our participants. If you have any questions at all about the new system or workshop registration in general, please contact Gwen at training@mcls.org or (800) 530-9019 ext 404.
Upcoming MCLS workshops
Graphic Detail: Cataloging Graphic Novels

, Jun 3 (online)
Assigning Library of Congress Call Numbers: Advanced, 3-day class, June (Date TBD)
MARC: An Introduction, 3-day class, July 13,14,15 (online)
Original Descriptive Cataloging of Monographs Using RDA, 3-day class, July 20,21,22 (online)
Original Cataloging of Videos & DVDs Using RDA, 3-day class, July 27,28,29 (online)
On-Demand MCLS workshops
MeLCat/RIDES workshops
For more information or to see all upcoming workshops, visit our workshop and event registration page. If you have any questions, please contact us at training@mcls.org.
---
Special Offers
LibraryAware has the tools you need to tell your library's story
Whether you're planning programs or promoting reader services, LibraryAware helps you keep your patrons informed and engaged. It helps connect patrons to your resources through the channels they already use, including print, email, website, and social media integration.

LibraryAware includes:
Library-focused templates and images for all your communication channels
Readers' advisory content created by the book experts at NoveList
Curated NextReads reading recommendations that link directly to your catalog
Subscriber management
Excellent customer support
For more information or a quote, contact Group Purchasing at services@mcls.org or (800) 530-9019 ext 401.
Stock up on library supplies
MCLS has negotiated discounts with several library supplies and equipment vendors on behalf of our members. These vendors include Brodart, Demco, Ingram, The Library Store, Kapco, Office Depot, Barcodes, Inc., and Vernon Library Supplies. You can find more information on discounts and how to order on each vendor's page. 
Docuseek launches 3rd Edition and the Icarus Fiction Films Collection  
Docuseek is launching The Docuseek Complete Collection 3rd Edition, which includes new distributor Women Make Movies and the entire filmography of India's leading documentarian, Anand Patwardhan. This collection will be filled out to 2,400 titles by the end of 2023. 

Docuseek has also curated a new special collection, the Icarus Fiction Films Collection, which includes 27 rare and exclusive award-winning films.
To take advantage of special spring discounts, contact Group Purchasing at services@mcls.org or (800) 530-9019 ext 401 for a quote before July 23. 
Exclusive IOP ebooks™ discount offer for MCLS members   
MCLS Institute of Physics (IOP) subscribers already own IOP ebooks™ Releases 1 - 3 and usage and open rates are strong. For a limited time, any MCLS member library can add Release 4 and 5 at 20% off the list price.

Release 4 adds 80 additional titles and release 5 adds 90 more, all created to meet the needs of students, early-career researchers, and established leaders across STEM disciplines including:  
Astronomy
Plasma physics
Materials 
Nuclear and particle physics
Biosciences
Earth and environment
IOP ebooks™ are fully digital, DRM-free, and E-reader compatible.

To take advantage of this offer, contact Group Purchasing at services@mcls.org or (800) 530-9019 ext 401.
Special savings on JSTOR collections
This is a great time for MCLS members who are considering participating in JSTOR for the first time or adding new journal collections to their current JSTOR holdings. Exclusive offers available through June 30, 2021 include:
Four-year academic institutions save on their one-time Archive Capital Fees (ACF), and the ACF is entirely waived for secondary schools
Current JSTOR participants pay just six months of fees for 12 months of access for any new collections they add
Additional savings are also available for two- and four-year academic institutions, secondary schools, public libraries, and museums
The journal collections in JSTOR include more than 12 million articles from peer-reviewed scholarly and literary journals, as well as research reports and primary sources from libraries' special collections and archives.
For more information or a quote, contact MCLS Group Purchasing at services@mcls.org or (800) 530-9019 ext 401.
Free product trials and special savings on K-12 resources from Infobase
The education landscape has forever been changed by the Covid-19 pandemic. Infobase resources can help support K-12 teaching and learning wherever instruction happens to take place. Spanning all grade levels and multiple disciplines, Infobase resources offer unlimited, simultaneous access for teachers, librarians, and students, in the classroom or from home! Available databases geared toward K-12 students include African American History, Ancient and Medieval History, Bloom's Literature, Chelsea House Biographies, Health Reference Center, Today's Science, World News Digest, World Religions and others. Streaming video and eBook collections are available as well.
To help MCLS members learn about Infobase products, the company is offering K-12 members free product trials and a 25% discount on new subscriptions.  

For free trial access information or product quotes, contact Group Purchasing at services@mcls.org or (800) 530-9019 ext 401.
Reprints Desk launches Article Galaxy Scholar
Reprints Desk is launching a new service called Article Galaxy Scholar (AGS), which will provide ready access to scholarly content from over 30,000 journals within minutes to seconds. The first of its kind, AGS is an on-demand document delivery solution that enables libraries to:
Fill gaps in their existing collection holdings
Prioritize the provision of Open Access content
Simplify workflows
Monitor budget usage
Improve the overall user experience for library patrons
Reduce demand on library resources and budget  
Here are a few words from librarians who have tried the platform:
 
"UCSD Library is excited to offer a clean, simple, and improved service to our patrons. Because it is unmediated, AGS is actually relieving some staff time so we are able to focus on other work." — Judea D'Arnaud, UC San Diego Library

"(AGS) more closely aligns the work of collection development with the work of inter-library loan/document delivery." — Wil Weston, San Diego State University

Article Galaxy Scholar was featured at a recent MCLS webinar. If you were not able to attend the webinar you can view it on-demand, with password AGS4MCLS. Currently in limited release, MCLS members can avail themselves of a preferred consortium rate and waived implementation fee if signed up by April 1, 2022.
For more information and a quote, please contact MCLS Group Purchasing at services@mcls.org or (800) 530-9019 ext 401.