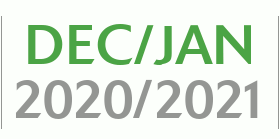 Contents:
News | Executive Director | Training | Special Offers | MeL | RIDES
News
MCLS will bring back Virtual Dialogues for library staff
Last spring and summer, MCLS hosted Virtual Dialogues for library staff as a chance to connect with others in Indiana and Michigan (and sometimes beyond). We've heard from YOU, our community, that you want the Virtual Dialogues back, and we're listening!
Starting on Dec. 18, MCLS Virtual Dialogues will gather on Zoom on the third Friday of each month, 11am-12:30pm Eastern (10-11:30am Central). Part support group, part visioning, let's share our thoughts and ideas as we navigate the environment we find ourselves working in right now and look towards the future.
Watch the email lists for the login link and topic announcement. We look forward to seeing you!
Read more or check out archived recordings of our past Dialogues>>
LEAP 2020 brings together staff of 48 Michigan libraries
In early November, 74 staff members of 48 public and academic libraries around the state of Michigan gathered for an all-day virtual event as part of the Michigan Libraries Engage partnership between the Library of Michigan and MCLS (with some funding from the Institute of Museum and Library Services). The event was called Libraries Engaging Appreciatively for Positive Change (LEAP) and focused on bringing the processes and practices of Appreciative Inquiry to participants as part of their toolbox for community engagement. These tools will be especially helpful as libraries work to re-engage their communities mid- and post-pandemic, one conversation and one patron at a time. Maureen (Mo) McKenna of Return on Energy Consulting, an internationally respected and highly sought-out expert in the field of Appreciative Inquiry, facilitated the LEAP program along with MCLS's Engagement, Consulting, & Training team.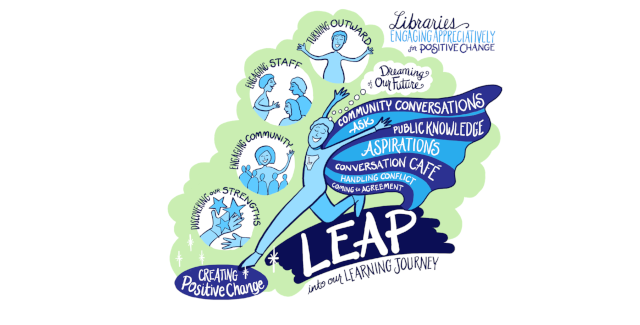 The cohort of participants will continue to engage with the new community they began to form at LEAP and continue to grow their knowledge and understanding of Appreciative Inquiry through reading, practice, and monthly virtual facilitated learning and coaching sessions for the next six months.
Thanks to all who were part of LEAP 2020!

MCLS holiday closures
The MCLS office will be closed the following days: 
Thu, Dec 24
Fri, Dec 25
Fri, Jan 1
Happy holidays to all!
---

Notes from Executive Director Scott Garrison
Like me, you may be trying to balance living in a moment to be thankful, being cautious, reflecting as an exhausting 2020 draws to a close, and hoping for a better 2021. While the past several months may have been among the most challenging of our lives, they have also shown us just how adaptable, resilient, and innovative we can be when we stay centered, connected, and collaborative.
Over the past several months, MCLS has been working with the Change Lab, the Wellbeing Lab, and others who have been helping us navigate these strange times productively. I want to tell you about some of these collaborative projects that will make a positive difference for libraries and their communities in 2021 and beyond.
---
Training
New semester of training workshops is now online
Visit our MCLS Store for the full Winter/Spring 2021 semester of training workshop offerings!
Upcoming MCLS workshops
On-Demand MCLS workshops
MeLCat/RIDES workshops
For more information or to see all upcoming workshops, visit our workshop and event registration page. If you have any questions, please contact us at training@mcls.org.
---
Special Offers
Ubiquity repositories and OA publishing available at discounted member rates
Ubiquity repositories are cloud-based, an ideal solution for institutions that do not want the headache of hosting and maintaining a repository in-house, and a strong alternative to platforms like Elsevier Digital Commons for those preferring a more community-oriented vendor. High-quality design helps to raise the reputational profile of the institution and encourages use by faculty and students. The platform is highly scalable and suitable for both large and small institutions and can run as a shared system for a group of smaller colleges. Library staff can save significant time with auto-population and automated metadata correction. Ubiquity also provides full professional hosting and services for open access journal, book, OER, and conference publication, fully integrated with the repositories.
Learn more about how Ubiquity Press can help your library advance open access by attending an informational webinar on Wed, Jan. 13, 1-2pm Eastern (Noon-1pm Central). Register now! 
Patron Point for marketing automation
Market like a pro with Patron Point. This fully-featured marketing automation platform gives public libraries the ability to drive their digital marketing and community engagement. It brings data together by connecting to the ILS and other third-party library services to help libraries segment marketing by audience, reaching patrons more effectively and efficiently. Patron Point automates communications through messages that are highly targeted, personalized, and relevant. Library card registration, event promotion, and user notification are a few examples of Patron Point functionality.  

Special pricing is available for MCLS members and the more libraries that participate, the better the savings. For more information or a quote, contact MCLS Group Purchasing at services@mcls.org or (800) 530-9019 ext. 401. 
LIBRO curbside pickup app for material pick-up, appointment scheduling, and room reservation
As part of its commitment to help libraries navigate service issues related to COVID-19, MCLS is partnering with LIBRO, a ConverSight.ai product, to provide special pricing on the LIBRO curbside pickup mobile app. Geared toward all library types (academic, K-12, public, and special) LIBRO curbside pickup lets libraries keep the safety of library users and library staff a priority. The app allows patrons to search and select materials from their mobile device and schedule a specific pickup time at the library, as well as schedule appointments with library staff and book rooms for study.  

Find out how LIBRO curbside pickup can help your library meet user needs remotely. For a price quote, more information, or a product demo, contact MCLS Group Purchasing at services@mcls.org or (800) 530-9019, ext 401.  
Special pricing on SAGE eBook and video resources
MCLS has partnered with SAGE Publishing to achieve special pricing on key SAGE resources in 2020-2021. If you have been considering any acquisitions from SAGE, now is a great time to complete your collection with special savings developed specifically for MCLS members! The resources featured in this offer include SAGE Video and SAGE Knowledge Evidence-Based Acquisition.

SAGE Video streaming includes 11 different collections covering all major disciplines, with recent content updates in Criminology & Criminal Justice, Political Science, Psychology, and Sociology. SAGE Knowledge includes an expansive range of SAGE eBook and eReference content. MCLS members are invited to participate in an exclusive offer to build your SAGE Knowledge collection at reduced buy-in pricing using Evidence-Based Acquisition. When you opt-in to the EBA program, you'll gain full access to over 5,800 encyclopedias, handbooks, and reference titles with a combined value of over $1M.

For more information or to request a product trial or quote, contact MCLS Group Purchasing at services@mcls.org or (800) 530-9019 ext. 401.
Dial-A-Story for Libraries
Sharing stories with library users is easy and affordable with Dial-A-Story, a service of Stories in the Cloud. Despite modern smartphones and streaming technology, many Americans lack reliable internet access. With Dial-A-Story, your library gets a dedicated local number, custom greeting, and your choice of hundreds of stories. Record your own stories or choose from hundreds of pre-recorded classics. This cloud-based service requires no special equipment, hardware, or software. Library users simply call the number and listen to stories! Contact MCLS Group Purchasing at services@mcls.org or (800) 530-9019 ext. 401 for information on special Dial-A-Story pricing available to MCLS members.
PolicyMap offers a rate reduction
College and university libraries: special pricing is available for PolicyMap through June 2021. This offer is designed to support the academic community during the current health crisis. PolicyMap is a data and mapping tool for accessing datasets and other information from authoritative sources about communities across the U.S., including demographics, health, education, housing, economics, and more.

In October 2020, Choice 360 stated that "PolicyMap manages to deliver powerful GIS capabilities and copious data indicators with an interface that a generalist can quickly grasp and put to use."  For more information, please contact MCLS Group Purchasing at services@mcls.org or (800) 530-9019 ext 401. 
Stock up on library supplies
MCLS has negotiated discounts with several library supplies and equipment vendors on behalf of our members. These vendors include Brodart, Demco, Ingram, The Library Store, Kapco, Office Depot, Barcodes, Inc., and Vernon Library Supplies. You can find more information on discounts and how to order on each vendor's page. 
---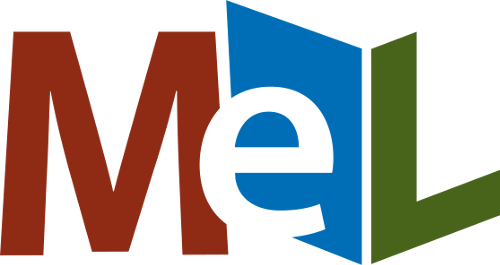 MeLCat training
Registration for a new semester of MeLCat training classes is now available! Come along as MeLCat staff help you learn everything you ever wanted to know about MeLCat.
---

RIDES notification about library closures
Please submit a RIDES Assistance form if your library will be closed on a scheduled day of service. Short closures should be reported no more than two weeks prior to closing. Extended closures of more than 30 days should be submitted at least two weeks prior to closing.
It is not necessary to report if your library is closed on a RIDES holiday; there will be no service those days.
Upcoming RIDES holidays:
Fri, Dec 25
Fri, Jan 1
Looking for help?
RIDES Assistance Form: mcls.org/rideshelp