Contents:
News | Executive Director | Training | MeL
News
MCLS hosting Harwood Public Innovators Lab in Indiana in 2019
MCLS is sponsoring a Harwood Public Innovators Lab in Indianapolis, IN March 5-7, 2019. The Lab will be held at Indiana Wesleyan University - Indianapolis North campus. MCLS will fully fund tuition for the training, as well as lodging and some meals during the training, for up to 50 staff from Indiana libraries. The Harwood Public Innovators Lab is a 2.5-day experience to help you and your organization learn what it means to Turn Outward – to use the community, not your conference room, as your reference point for choices and action. Participation in the lab will also include follow-up coaching calls to further support the cohort of attendees post-training.
These funds are being made available through a grant program established by the MCLS Board of Directors from the proceeds of the sale of the former INCOLSA building.
Interested libraries must complete an application form by 5pm Eastern (4pm Central), November 30, 2018.
Read more and download application>>
Community Engagement Summit gathered, energized, and inspired
The culmination of the Michigan Libraries Engage project, a partnership of MCLS and the Library of Michigan (with some federal funding from the Institute of Museum and Library Services) was a Community Engagement Summit, held on September 27, 2018, in East Lansing, Michigan. The Summit brought together many of the 150 members of the cohorts for a full day event of presentations, discussions, and the chance to come together and be revitalized in the efforts of community engagement.
More than 150 library staff and board members from Michigan and beyond registered to attend the Summit. The day was energizing and inspiring, and we look forward to seeing what comes next for community engagement within the Michigan library community.
Read more about the Summit and Libraries Engage project>>
See photos of the Community Engagement Summit>>
Join MCLS at fall conference booths
It's almost time for fall conferences! The Michigan Library Association (MLA) Annual Conference is in Novi from Oct. 17-19, and MCLS will be at booth #15. Then the Indiana Library Federation (ILF) Annual Conference is in Indianapolis soon after, Nov. 12-14, and we'll be at booth #61. Stop by and say "Hi" to MCLS staff!
Whether your library is a current member of MCLS or not, we'd love to see you and chat about how we can support you, supporting your community. Stop by for give-aways, a drawing for free MCLS webinars, and much more fun. We look forward to seeing you in either Novi or Indianapolis!
Say goodbye to MCLS Executive Director Randy Dykhuis before he retires at the end of December
After over 23 years of service to the Michigan Library Consortium and Midwest Collaborative for Library Services as their Executive Director, Randy Dykhuis will be retiring at the end of December. We are going to miss Randy and we know you will, too. Make sure to say goodbye to him at one of the following events:
Michigan Library Association Annual Conference (10/17) — Randy will be at the MCLS exhibit booth (#15) during the opening reception on Wednesday, October 17 from 5:30–7:30pm.
Indiana Library Federation Annual Conference (11/12) — Join Randy at the Skylight Bistro & Wine Bar in the lobby of the Indianapolis Marriott East on Monday, November 12 from 5:30–6:30pm.
Retirement Reception (12/6) — Celebrate the end of an era! A reception for Randy will be held at the Library of Michigan on Thursday, December 6 from 4–6pm. Invitations will be in the mail in the next few weeks.
Share your photos and memories of Randy, as well as best wishes, on our photo-sharing website or you can email your photos and memories to Heather Ladiski at ladiskih@mcls.org.
For those who would like to make a monetary contribution in honor of Randy's retirement, you may do so by donating to The American Battlefield Trust and/or The Nature Conservancy.
Group Purchasing department hosted annual eResources meeting
On Thursday, September 20, we hosted our annual eResources meeting at the MCLS offices in Lansing, Michigan. Also known as the eJournal meeting, this year's gathering included thirty-one librarians from twenty-six member academic and hospital libraries, as well as representatives from SAGE Publications, EBSCO Information Services, and John Wiley & Sons, Inc. We spent a large part of our day discussing the upcoming three-year renewals with representatives from each of the vendors. After lunch, Jan Davidson, MCLS's Engagement, Consulting, and Training Project Manager, facilitated a great discussion about what difficulties our members are facing when it comes to purchasing eResources, why that matters, and what we can do about it. Ideas and potential action items generated from that discussion will inform Group Purchasing as we work to continue the success of this program for our members. We want to thank all of our members who were able to attend for their time and their contribution to the robust discussion. We'd also like to thank our representatives from SAGE, EBSCO, and Wiley for their generous support of lunch at the meeting. If you'd like more information about the eJournals group purchases, please contact services@mcls.org or call Group Purchasing at (800) 530-9019 ext 401. We hope to see even more of you at the spring 2019 meeting!
Welcome, new MCLS members!
We have had quite a few libraries join MCLS membership in 2018.
Clinton Township Public Library (MI)
Dorothy Hull Library (MI)
Earl Park Public Library (MI)
Harbor Beach Area Public Library (MI)
Jonesville District Library (MI)
MSD of Wabash County (IN)
Pentwater Township Library (MI)
Perry County Public Library (IN)
Plymouth Public Library (IN)
Redford Township District Library (MI)
Remington-Carpenter Township Public Library (IN)
Schoolcraft Community Library (MI)
Sherman Township Library (MI)
Stair District Library (MI)
St. Joseph Public Schools (MI)
Vermillion County Public Library (IN)
White Pigeon Township Library (MI)
We are so glad to have all of you as MCLS members, and hope to be able to provide wonderful benefits to you as you support your communities.
Is your library receiving the benefits of MLCS membership? Find out more today!

Join us for a Twitter Chat about community-led strategic plans
This month's Third Thursday Twitter Chat is titled Strategic Plans that Work. Hosting this month's chat will be Michelle Bradley, Engagement, Consulting, and Training Manager with MCLS. Michelle will chat with us about how to create community-led strategic plans that work for the library. Join in the chat to gain some tips on creating a plan that is based on the community's aspirations and the library's strengths.
We hope to see you on Twitter on Thursday, October 18 at 2pm Eastern (1pm Central). Use the hashtag #MCLSchat.
New to Twitter? Here are instructions.
Registration is open for Removing Barriers: A Library Accessibility Workshop
The Michigan Collaborating Partners (Michigan Cooperative Directors Association, Library of Michigan, Midwest Collaborative for Library Services, Michigan Library Association, and Michigan Academic Libraries Association) invite you to a day-long workshop on accessibility in libraries on Friday, November 9, 2018.
Equality in access for every member of your community is a core library value and it can be challenging to satisfy all of the needs of your patrons. This workshop will cover important aspects of library accessibility and provide you with new tools to help serve all patrons equally.
Save the date for the Linked Data for Libraries Users Group meeting November 7
As a result of a successful Linked Data Summit held in March 2017, MCLS facilitated the formation of a multi-state Linked Data for Libraries Users Group. The purpose of the group is for staff of libraries to discuss the latest developments in Linked Data and the implications for libraries, share experiences, explore new products, and raise awareness.
Towards this effort, there will be a virtual All Users Group Meeting on Wednesday, November 7 from 3-4pm Eastern (2-3pm Central). For more information on the All Users Group meeting, including how to join the Users Group and attend the virtual meeting, visit Linked Data for Libraries Users Group.
---
Notes from the Executive Director
Often, historical events, when viewed in the rear-view mirror, seem like they had to happen the way they did. The chain of cause and effect seems to have been predetermined. Most of the time, when lived through, it's not nearly so tidy. So it was with the Dutch Republic at the turn of the 17th century, and so it was in Michigan at the end of the 20th century.

---
Training

Meet the MCLS trainers: Katie Dover-Taylor
Katie Dover-Taylor is a Reference Librarian at the William P. Faust Public Library of Westland, where she coordinates technology training for adult learners. She regularly teaches computer, smartphone, and tablet classes on a wide variety of topics and provides direct assistance to patrons through the library's Job Seekers Lab and its eReader & Tablet Support Group. Katie has presented on the topics of empathy and digital literacy throughout Michigan, including the Loleta Fyan Small and Rural Libraries Conference, the Library of Michigan's Beginning Workshop, and the Michigan Library Association Annual Conference. Katie holds an MSI in Library & Information Services from the University of Michigan School of Information and a BA in Psychology from Oberlin College.
Some fun facts about Katie, in her own words:
I was ordained online by the Universal Life Church and I have officiated a grand total of one wedding.
I put "sense of humor" on my resume.
Current favorite reading: Parable of the Sower by Octavia Butler, Sister Outsider: Essays and Speeches by Audre Lorde, Hyperbole and a Half by Allie Brosh.
Katie has been teaching Technology Training 101: Helping Adults Build Digital Literacy Skills for MCLS since April 2018. This course will be offered next on October 17 (and again during the January - June 2019 semester), and registration is open in the MCLS Store. Thank you for your hard work, Katie; we are grateful to have you on our MCLS teaching team!
October/November MCLS workshops
On-Demand MCLS workshops
MeLCat/RIDES workshops
For more information, visit our upcoming workshops and events page. If you have any questions, please contact training@mcls.org.
---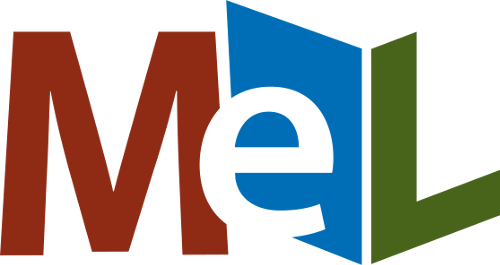 MeLCat Participation
MeLCat is happy to welcome back not only all of the summer suspension libraries, but also Ann Arbor District Library, and the fifty TLN (The Library Network) libraries that have been suspended. We should see request numbers settle back to normal again!
Notify us if you need assistance with anything, email us at melcathelp@mcls.org.
MeLCat is a statewide multi-type library resource sharing program. MeL was made possible in part by the Institute of Museum and Library Services. Additional funding is provided by the State of Michigan and the Library of Michigan Foundation.