Contents:
News | Executive Director | Training | Special Offers | MeL | RIDES
News
MCLS announces new soft skills workshops - Free for member libraries!
Starting in July 2018, MCLS will offer webinars intended to be introductory workshops on a variety of soft skills topics, geared specifically toward library staff. These webinars will be a FREE benefit to our member libraries, and available to all.
Along with the courses, we will offer a Certificate of Library Development in Basic Soft Skills program, which will provide you with an opportunity to:
Develop and demonstrate basic competence in in-demand skills for the workplace of the 21st century library
Become a more well-rounded employee by improving skills that complement library technical skills
Improve your chances for career success
Library staff can earn a Certificate of Library Staff Development in Basic Soft Skills by completing five of the MCLS Soft Skills Introduction courses within three years. Enhance your resume today with an MCLS Certificate of Library Staff Development.
Title chosen for Libraries Read: 1 Book 2018
Thank you to all who voted for this year's Libraries Read: 1 Book title! We are pleased to announce that this year's winning title, with 52 of the 132 total votes, is When They Call You a Terrorist: A Black Lives Matter Memoir by Patrisse Khan-Cullors & asha bandele.

Time to start reading! We hope you'll join us in reading the book and taking part in a discussion about it in July or August.
Find out details and register for a book discussion>>
Report from World Café conversations on barriers
In March 2018, staff from all types of Indiana libraries were invited to three conversations held around the state of Indiana using the World Café method of engagement. World Café conversations, which are a method for creating collaborative dialogue around questions that matter in service to real work, are highlighted in ALA's Libraries Transforming Communities initiative. The theme for this round of Indiana World Café Conversations was, "Barriers to Library Service," and was chosen in part because it covers a wide range of topics, from physical to organizational to legislative. The conversations were designed to first identify barriers to library service, and then to discuss ways that we could work toward removing those barriers. You can view the full report, including more information about the World Café Conversations and the barriers and possible solutions identified during the conversations, here:
World Café Report

Community Engagement Summit registration is now open to all Michigan library staff
MCLS, in partnership with the Library of Michigan, is pleased to be hosting a Community Engagement Summit in September. Richard C. Harwood, President and Founder of The Harwood Institute for Public Innovation, will be the keynote presenter. The day will include other national leaders in community engagement, as well as a panel of directors from Michigan libraries who are making great strides in engaging their own communities.
Registration is currently open to all Michigan library staff interested in community engagement. This registration is $50/person. Event is limited to 200 participants and is already half full, so register today!
Save the date for Removing Barriers: A Library Accessibility Workshop
The Michigan Collaborating Partners (Michigan Cooperative Directors Association, Library of Michigan, Midwest Collaborative for Library Services, Michigan Library Association, and Michigan Academic Libraries Association) invite you to a day-long workshop on accessibility in libraries on Friday, November 9, 2018.
Equality in access for every member of your community is a core library value and it can be challenging to satisfy all of the needs of your patrons. This workshop will cover important aspects of library accessibility and provide you with new tools to help serve all patrons equally.
Join us for a Twitter Chat about eliminating library fines
This month's Third Thursday Twitter Chat is titled Eliminating Fines. We will be joined by Ruth Frasur, former Director of the Hagerstown-Jefferson Township Public Library, IN and Kimberly Feltner, Director of Public Services with the Branch District Library, MI. Ruth and Kimberly will chat with us about how and why their libraries eliminated fines and answer questions about the process.
We hope you can join us on Twitter on Thursday, June 21 at 2pm Eastern (1pm Central). Use the hashtag #MCLSchat.
New to Twitter?  Here are instructions.
You have questions, Group Purchasing has answers
Have you ever needed a copy of a license for a group purchase in which you participate? How about a title list? Or VPAT? Are you trying to figure out what FTE we used to generate your latest quote from a vendor? Or who to call if your invoice doesn't make sense?
Group Purchasing has gathered some of the most frequently asked questions and answered them for you on the MCLS website in Purchasing FAQs. Everything from how to request a quote to how to request a refund is gathered in one spot. Of course, we are happy as always to assist you via phone or email, but if you prefer to quickly locate the answer yourself, this is a great place to start. We hope you find it helpful!
---
Notes from the Executive Director
The right consultant at the right time at the right price. Whenever we look for outside advice or consultation, isn't that what we always want? Whether it's a strategic planning process, a staff in-service, or a meeting that needs outside facilitation, finding just the right person to do the work can be tricky.
When MCLS began using the Harwood framework, we were looking to connect in deeper and more authentic ways with the libraries in Indiana and Michigan. Throughout community conversations, conference presentations, and other meetings, we heard many great ideas. One that came up over and over was that librarians would welcome an opportunity to consult with us when they needed advice or an outside voice. The topics ranged from Harwood-style community engagement techniques to strategic planning to customer service to meeting facilitation. We had done a little informal consulting over the years but had never launched a formal service. That changed in 2017.
---
Training
Who in the world is taking MCLS workshops?
Meet Sister Gianna Marie Borchers, OP, a librarian at the Pontifical North American College, which is the Catholic seminary for Americans studying in Rome, Italy. Yes, you read that correctly - one of our participants is a group of Sisters at the Vatican! Based in Ann Arbor, Michigan, the Dominican Sisters of Mary, Mother of the Eucharist (who are MCLS members) send Sisters abroad each year, and these women have been participating in our webinars for several years now. Sr. Gianna Marie has been one of our contacts the past few months, and she sends the following thoughts:
"These webinars are invaluable tools for us because they help us stay abreast of current topics in library science. They also serve as an important opportunity for continuing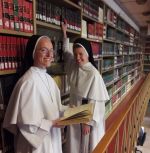 education as librarians. We have greatly benefited from the clear, instructive, and helpful classes, particularly in the area of cataloging. It is a testament to the caliber of the classes that they are worth the inconvenience of the (six hour) time difference!"
Over the years, Sr. Gianna Marie, Sr. John Mary (pictured together at the PNAC library), and others at the Pontifical North American College have participated in more than a dozen workshops. We are proud and grateful to count these Sisters among the many and varied participants in our MCLS training workshops.
New semester of workshops is now posted!
Visit our online store to see new and returning workshops from July through December 2018.
Congratulations to those who earned cataloging certificates this semester
Library staff from five different Indiana and Michigan MCLS member libraries earned their MCLS Certificate of Library Development in either Basic or Advanced Cataloging this semester (January - June 2018). The individuals represented both public and academic libraries. This semester's participants include:

Basic Cataloging Certificate
   Alison Downey, Valparaiso University Law Library
   Eric Richard Hansen, Vicksburg District Library
   Abigayle Quinlan, Cheboygan Area Public Library
   Amanda Raifsnider, Vicksburg District Library

Advanced Cataloging Certificate
   Abby Hill, Thompson Home Public Library
   Melissa James, Central Michigan University

Congratulations to all of you!

Interested in earning YOUR Library Staff Development Certificate from MCLS? Read more about the requirements or get an application form on our website!
June/July workshops
Accessible Electronic Documents, Jun 19 (online)
MARC: An Introduction, 3 day class, Jul 10-12 (online)
Assigning Library of Congress Call Numbers: Basic, 3 day class, Jul 10-12 (online)
Soft Skills: Introduction to Productive Work Habits, Jul 13 (online)
Copy Cataloging of Sound Recordings Using RDA, 3 day class, Jul 23-25 (online)
Copy Cataloging of Monographs Using RDA, 3 day class, Jul 24-26 (online)
BIBRAME: An Overview, Jul 31 (online)
MeLCat/RIDES workshops
For more information, visit our upcoming workshops and events page. If you have any questions, please contact training@mcls.org.
---
Special offers
Whether you have patrons researching businesses, health care, genealogy, or looking for a summer romance read, we have a special offer for you. If you would like more information or a quote on any of these offers, contact Megan Bauerle and Chrystal Babbitt at services@mcls.org or (800) 530-9019 ext 401.
Potential group purchase for AtoZdatabases
AtoZdatabases is an online database for finding information on all U.S. businesses, consumers, and jobs in the United States. This information is used by job seekers, the small business community, students, researchers, and more. AtoZdatabases is ideal for public libraries and academic institutions. The database is continually updated and verified to provide the highest level of accuracy.
If enough libraries want to subscribe to AtoZdatabases, we will begin a group purchase. Contact us today if you're interested!
Docuseek2 offers Blue Light Special
Take advantage of the Health and Health Care Collection Blue Light Special to enhance your streaming collection with award-winning films from around the world, created by leaders in social issue and independent film distribution. The Health and Health Care Collection includes more than 370 award-winning films on health, health care, and medicine.  
RomanceBookCloud from Tumbleweed Press
RomanceBookCloud is an online collection of over 1,800 romance eBooks which are available 24/7 for library patrons. There are no holds, no wait periods, and no software to download. A subscription provides a library with unlimited and unrestricted simultaneous user access. With romance titles of every genre from award winning authors, patrons will be able to read to their heart's content.
RomanceBookCloud is available to MCLS members for free through August. Contact us for trial information.
Enhance your genealogy collection with ProQuest's African American Heritage
As a consequence of slavery and the changing legal status of African Americans throughout American history, research in the area of African American genealogy can be more challenging than other genealogical inquiries. ProQuest African American Heritage, an online genealogy resource, can assist your patrons in this important area.
---

MeLCat Users Day
Space is limited, so sign up soon for the FREE half-day MeLCat Users Day session near you! This is an opportunity to meet up with staff from other MeLCat and RIDES libraries to compare notes. Sessions will include "Build a Better MeLCat," "What's New," "Stop It!," and an open forum for questions.
https://mcls.org/melcatusersday
FULL July 23, Dearborn Heights Caroline Kennedy Library 9:30am-12:30pm
July 24, Grace A Dow Memorial Library  9:30am-12:30pm
July 24, Kent District Library  9:30am-12:30pm
July 25, East Lansing Public Library  9:30am-12:30pm
July 25, Ypsilanti District Library  9:30am-12:30pm
July 26, Kalamazoo Public Library  9:30am-12:30pm
FULL July 26, Rochester Hills Public Library 1-4pm
July 31, Northern Michigan University  9:30am-12:30pm
August 1, Traverse Area District Library  9:30am-12:30pm
Let us know if you have questions at melcathelp@mcls.org.
The MeL project is funded by the Federal Library Services and Technology Act (LSTA) via the Institute of Museum and Library Services (IMLS) through the Library of Michigan, part of the Michigan Department of Education. Additional funding is provided by the State of Michigan.
---

RIDES Task Force
Since the development of a statewide delivery service in 2004, initially known as MeL Delivery and now known as RIDES, many things have changed that have impacted the delivery service. MCLS sought to hire a consultant to review the statewide library delivery service and to develop recommendations for making the current delivery system more seamless and effective.
To guide the work of the consultant, in June of 2017 MCLS convened a Task Force to help develop a request for quote, meet with the consultant, and provide feedback. The Task Force represented the diversity of libraries receiving materials delivery with RIDES.
After MCLS received the final report, "RIDES Delivery Evaluation," the Task Force reviewed and prioritized the recommendations in the report. The RIDES Advisory Committee is in the process of examining those recommendations that impact policy and procedures.
A summary of the report will be available later this summer.
RIDES Label Maker updates
The site used for the creation of RIDES shipping labels was updated in May. The changes should make improvements to the work flow of staff processing materials for shipment.
RIDES subscription renewals
Every library that receives direct RIDES service should have received renewal confirmation information for the July 1, 2018 - June 30, 2019 period.
Questions?
RIDES questions and comments should be sent to the RIDES Assistance form.