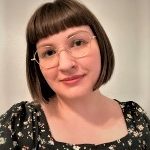 Sarah's first day with MCLS was April 3. She spent the last ten years at Ypsilanti District Library in Michigan where she did work in acquisitions, catalog maintenance, and MeLCat. Sarah previously worked at Plymouth District Library and Milan Public Library.
In her role as MeL Support Specialist at MCLS, Sarah is a member of the Shared Library Systems team. In addition to working MeLCat and RIDES helpdesks, she assists with planning, implementing, and supporting the Michigan eLibrary (i.e., MeLCat and MeL eResources).
Q: Tell us a little about your background. How did you get started in libraries?
I have been a lifelong lover of libraries, with trips to the library being a regular part of my childhood. I first started working in libraries as a technical services intern as an undergrad. From there, I went to library school and have been working as a librarian ever since.
Q: What motivated you to take on this new role?
I am a huge fan of the MeLCat system, as both a library patron and an employee. It is such an important resource for Michiganders. I understand the excitement of finding a copy of an out-of-print book available on MeLCat, for example. When I saw the job posting, I was really intrigued by the opportunity to work with MeLCat behind the scenes. Doing so would allow me to support hundreds of libraries, which I thought would be very professionally fulfilling. So, I decided to apply for the position and here I am! 
Q: What are you most excited to start working on?
I am excited to learn the ins and outs of the MeL eResources. I've used the eResources in previous roles, but this will be my first opportunity to work with them from a technical standpoint. This is an exciting learning opportunity for me to expand my skill set and help libraries at the same time. 
Q: What do you like to do when you aren't working?
I love reading, of course! Additionally, I enjoy crafting and am currently working on a cross stitch of a little frog in a cowboy hat. I also like watching so-bad-they're-good movies, playing trivia with friends, and spending time with my nephews.
Q: Do you have a favorite author, book, or genre?
I read a variety of genres. For fiction, some favorites are anything by Sally Rooney and thrillers by authors like Ruth Ware and Lucy Foley. Recent non-fiction favorites include Clint Smith's "How the Word is Passed: A Reckoning with the History of Slavery Across America" and Patrick Radden Keefe's "Say Nothing: A True Story of Murder and Memory in Northern Ireland." 
Q: Anything else you want us to know about you?
I'm excited to be here and look forward to working with libraries all across Michigan!