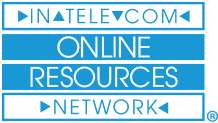 INTELECOM Intelligent Telecommunications, a non-profit corporation operated by a joint power authority of 31 California community colleges, is a leading producer of curriculum-based rich media for online, distance, and classroom learning. INTELECOM brings together instructional design, content development, and digital technology to offer teachers and students alike a universe of content for undergraduate, career, and lifelong learning.
Vendor website: intelecom.org

Trial information
Free trials are available. For quotes, trials, or other assistance, contact us at services@mcls.org.
Product list
Product not listed? Request a quote for any product or contact Group Purchasing at
services@mcls.org
or 800-530-9019 ext 401.

Allied Health Collection

Anatomy & Physiology Collection

Biological Sciences Collection

Civic Education Collection

Earth Sciences Collection

Ecology Collection

Environmental Studies Collection

Health Collection

INTELECOM Academic Collection

Mathematics Collection

Nursing Education Collection

Nursing Skills Collection

Oceanography Collection

Philosophy Collection

Political Science Collection

Psychology Collection

Sociology Collection

U.S. History Collection