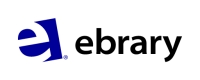 Resources
For more information contact:
ebrary offers authoritative ebooks in a wide range of subject areas, along with powerful tools to help you find, use, and manage the information you need. ebrary is a leading provider of ebooks and research technology to libraries worldwide offering the most flexible models.
Vendor website: ebrary.com

Note: ebrary is now a division of ProQuest. For the ebrary product list, visit our ProQuest vendor page. 
Trial information
Free trials are available. For quotes, trials, or other assistance, contact us at services@mcls.org.