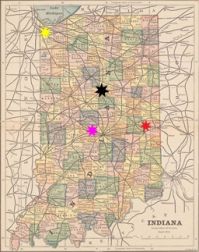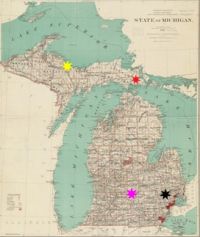 Library match is a project designed to facilitate communication among our members by matching interested member libraries in Indiana with interested member libraries in Michigan that may be facing similar issues, challenges, or opportunities.
The goal is to provide opportunities for library staff to develop relationships with library staff in another state, mentor one another, expand professional connections, share staff training opportunities and expertise, conduct co-marketing activities and/or develop collaborative public programs.
"Our 2014 community conversations revealed that librarians throughout Indiana and Michigan are eager to share their expertise with other librarians," Randy Dykhuis, MCLS Executive Director commented. "This program gives them that opportunity, with the additional benefit of interacting with librarians in another state. By expanding the geographic scope of their conversations, we expect librarians in both states will learn new ways to serve their patrons."
Are you looking for a "match"?
We are currently looking for libraries who are interested in working with "peers" across the state lines in any number of activities. If you are interested, please complete the Library Match Interest Form/Questionnaire

and submit it to David Votta at vottad@mcls.org.
Ideas for your Library Match
Hold a joint staff or department meeting
Conduct a co-marketing activity (i.e.: everyone wears red on the same day at both libraries, with the slogan that they are "well read" and shares photos on each others' social media sites)
Hold a staff discussion of the MCLS "Libraries Read: 1 Book" book selection
Hold a joint teen-advisory group meeting, teen discussion or teen program
Share an in-house staff training session
Take a virtual tour of each others' libraries
Conduct a joint children's program
Co-mentor one another
Use your creativity and come up with another unique way to share and collaborate with your partner library
If you are interested in more detailed ways to begin a Library Match initiative please look at our Library Match first steps

document.
Background
This project began as a pilot project funded by the H.W. Wilson Foundation which paired four public libraries in Indiana with four public libraries in Michigan over a period of 9 months. The peers were of similar size and serve comparable communities. The participating libraries were provided with the video-conferencing equipment needed to connect, communicate and collaborate with their peer library. They were trained on the use of the equipment, required to conduct a minimum of three specific activities together, and encouraged to do more.
The pilot Library Match "teams"
Pilot Library Match peer library profiles